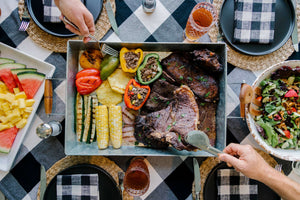 FILL YOUR PLATE WITH WILDERS
100% WAGYU BEEF & BERKSHIRE PORK
PASTURE RAISED
SUSTAINABLY FARMED
FAMILY OWNED
We know a thing or two about a hard day's work.
But this high-risk business is all worth it in the end when our customers can spend less time inspecting labels and more time on what matters most. We started this wild journey to steward the earth's natural resources, build the local economy, and offer a reliable, great product.
SHOP OUR MEAT
Finding high-quality, locally raised beef and pork packed with flavor shouldn't be that hard.
When you buy Wilders, you can count on it.
We're the Wild Ones
We have a vision: a desire to empower local growers, makers, and creators to build on their gifts and passions.

A calling to steward talent and treasure by connecting local consumers with the best products out there, all while building the local economy.
★★★★★

"Most definitely the best ribeye I've ever had..."

Cody H.
★★★★★

"They were juicy, tender and delicious."

Charles W.
★★★★★

"My husband cannot stop raving about the Wilders Ribeye we just had!"

Susan B.
★★★★★

"Wilders brisket smoked with some pecan wood its was so wonderful and tender."

Victor V.
FROM THE COMMUNITY
Mention us @wildersbrand or use hashtag
#wildersfarm for a chance to be featured